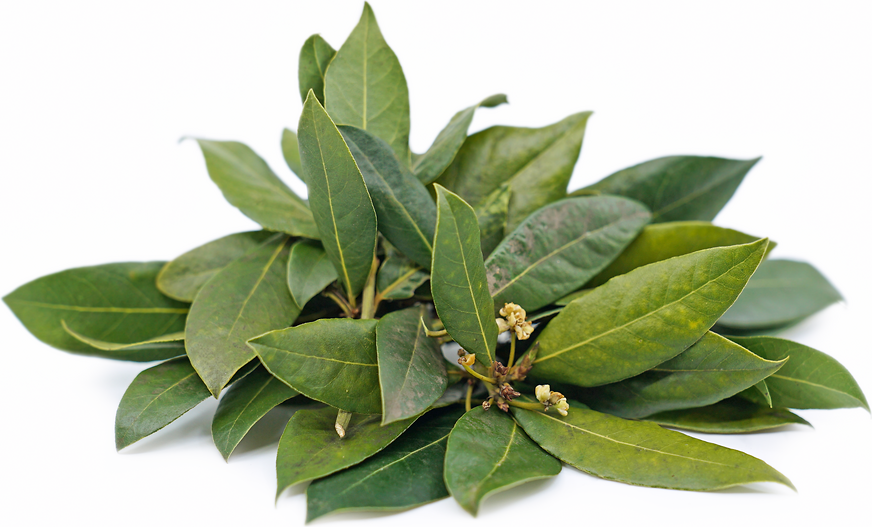 Bay Leaves
Inventory, lb : 16.52
This item was last sold on : 12/05/23
Description/Taste
Bay leaves are elliptic to oval in shape, measuring 5 to 10 centimeters in length, and taper to a slender point. When fresh, these short-stemmed, dark green leaves are smooth with a glossy sheen and have a light green underside. When dried, the leaves take on an ashy, olive-green hue and have a brittle texture, while the edges of the leaf are jagged and slightly curled. Bay leaves give off a woodsy aroma of balsam and honey with hints of nutmeg, clove, and pepper. Crushing the dried leaves also releases a strong scent of menthol and eucalyptus. The immediate flavor of Bay leaves is astringent and bitter with a bite of eucalyptus and menthol that lingers on the palate. When cooked, the more bitter and astringent qualities of the leaf mellow, leaving a nuanced savory and slightly sweet tea-like flavor with mild hints of pepper, clove, and mint.
Seasons/Availability
Fresh and dried Bay leaves are available year-round.
Current Facts
Bay leaves are the leaves of the perennial evergreen shrub Laurus nobilis, more commonly known as Laurel. Laurel trees are a part of the Lauraceae plant family and are related to cinnamon and sassafras. The leaves of the Laurus nobilis tree are also known as Turkish Bay, Grecian Bay, and Mediterranean Bay. Turkish Bay leaves are considered true Bay leaves and should not be confused with California bay leaves, which come from a different plant entirely and have a much more robust and sharp eucalyptus flavor. The easiest way to know the difference between the two leaves is by sight. California bay leaves are long and thin with a blade-like shape, while Turkish Bay leaves are shorter and rounder. Along with California bay leaves, there are also Mexican bay leaves and Indian bay leaves on the market. These leaves have similar flavor profiles to the Turkish Laurel leaves but are not true Bay leaves. It is a common misconception that bay leaves are poisonous and should not be consumed. The Laurus nobilis plant is not poisonous, however, the leaves and stems of the wild mountain laurel and cherry laurel trees are poisonous, so it is essential to use only culinary-grade bay leaves found in markets for culinary use.
Nutritional Value
Bay leaves are an excellent source of vitamin A and vitamin C. The leaves are also high in folic acid, niacin, pyridoxine, pantothenic acid, and riboflavin. Trace amounts of minerals, including copper, potassium, calcium, manganese, iron, selenium, zinc, and magnesium, can also be found in the leaves. The leaves are high in the essential oils cineol and eugenol, giving the leaves their eucalyptus and menthol aroma. The high levels of these oils within the leaves have led to their use to soothe stomach ulcers, relieve gas and colic, and soothe the throat and cough. Historically the leaves were also used as a bug repellent and to treat insect bites.
Applications
Bay leaves are primarily utilized whole and dried. The leaves are commonly simmered into soups, broths, and curries as a flavor enhancer. Fresh Bay leaves have an astringent aroma and flavor that can overpower a dish, but after about an hour of simmering, these harsh chemicals break down, giving way to subtle, nuanced flavors. Bay leaves are not toxic to humans, but they can be harmful to horses, dogs, and cats. The leaves can also cause choking or lacerations to the digestive tract if consumed, so the whole leaf must be removed before serving. To make this easier, the leaf is often added to a simmering broth in a bouquet garni, cheesecloth, or ground into a powder. Bay leaves are popular in many cuisines across the Mediterranean, France, America, and Mexico. The leaves are crucial in gumbo and Texas chili, and in Jamaica, the leaves and wood of the Laurel tree are used for smoking meats like jerk chicken. Recently, it has become popular to use Bay leaves in desserts to incorporate a minty, aromatic element that adds a layer of dimension to the overall sweetness of the confection. Check for freshness by crumbling the dried leaf. The leaf should release a pungent and herbaceous aroma. If there is no aroma or only a slight aroma, the leaves have lost their potency and should be discarded. Dried leaves can be stored in a cool, dry cupboard for up to six months, but to increase the shelf life and ensure the freshest flavor, Bay leaves should be stored in the freezer for 3-4 years.
Ethnic/Cultural Info
The origin of the Laurel tree, known as Daphne in Ancient Greek, is rooted in the Greek myth of the priestess Daphne and the god Apollo. It is said Apollo fell in love with Daphne, a wildly independent and fierce priestess. Rather than give herself over to the god, Daphne called out to Gaia and asked to be saved. Hearing her plea and taking pity on the priestess, Gaia turned Daphne into a Laurel tree. In his lament, Apollo adopted the tree as his sacred plant. Another myth says Apollo was struck by Eros's arrow, causing him to fall madly in love and chase Daphne down. In her attempt to escape him, she cried out to her father, a river god, who turned her into the tree to save her. Because of the tree's significance to Apollo, the god's priestesses ingested and smoked the leaves of the tree to induce prophetic visions. The tree came to symbolize wisdom, peace, and protection in both the Ancient Greek and Roman cultures, and wreaths from the tree were placed atop the heads of scholars, heroes, and athletes. The terms poet laureate and baccalaureate are both derived from the symbolism of wisdom the tree held.
Geography/History
Bay leaves are endemic to the Asia Minor region of the Middle East along the coast of what is now Turkey. The tree was discovered by the Ancient Greeks over 3,000 years ago and was brought back to Greece and Rome for cultivation. The leaves were considered sacred in Greek and Roman cultures and were revered for their medicinal properties. By the Middle Ages, the leaves grew in popularity throughout Europe for both medicinal and culinary use and were cultivated in medieval monasteries. The leaves were brought to the New World, where they became staples in Mexican and American cuisine. By the 16th and 17th centuries, the mythical power of the leaves made them famous in England as a ward against witches and the devil, and in Belgium, the trees were cultivated in Bruges to create wreaths and trimmings for export to imperial and royal courts. A few of these ancient trees can still be found in Bruges, although the bulk of the trees were cut down to provide fuel during the winters of WWI when coal was scarce. Today Bay Laurel trees are propagated throughout the Mediterranean basin for culinary and ornamental use, thriving in the sun-drenched and fertile lands along the coast. However, Turkey remains the world's largest exporter of Bay leaves. Due to its popularity in many different cuisines, dried Bay leaves can be found easily in any grocery store's spice aisle.
Featured Restaurants
Restaurants currently purchasing this product as an ingredient for their menu.
| | | |
| --- | --- | --- |
| Lodge at Torrey Pines Main | San Diego CA | 858-453-4420 |
| Giuseppe Restaurants & Fine Catering | San Diego CA | 619-436-7006 |
| Artifact at Mingei | San Diego CA | 619-846-2164 |
| Paradisaea Restaurant | La Jolla CA | 732-915-6669 |
| Born & Raised | San Diego CA | 619-944-1631 |
| The Glen at Scripps Ranch | San Diego CA | 858-444-8500 |
| Jeune Et Jolie | Carlsbad CA | 858-231-0862 |
| Herb & Sea | Encinitas CA | 858-587-6601 |
| The Guild Kitchen | San Diego CA | 619-573-0289 |
| Duke's La Jolla | La Jolla CA | 858-454-1999 |
| San Diego Yacht Club | San Diego CA | 619-758-6334 |
| Miho | San Diego CA | 619-365-5655 |
| Mabel's Gone Fishing | San Diego CA | 619-228-9851 |
| Two Ducks | San Diego CA | 760-235-3120 |
| Animae | San Diego CA | 619-925-7908 |
| Lafayette Hotel - Beginners Diner | San Diego CA | 619-296-2101 |
| Born & Raised (Events) | San Diego CA | 619-550-5412 |
| The Lion Share Bar | San Diego CA | 619-564-6924 |
| Javier Plascencia | Bonita CA | 619-295-3172 |
| The Shores | La Jolla CA | 858-459-8271 |
the other 16...
Recipe Ideas
Recipes that include Bay Leaves. One

is easiest, three is harder.
the other 10...