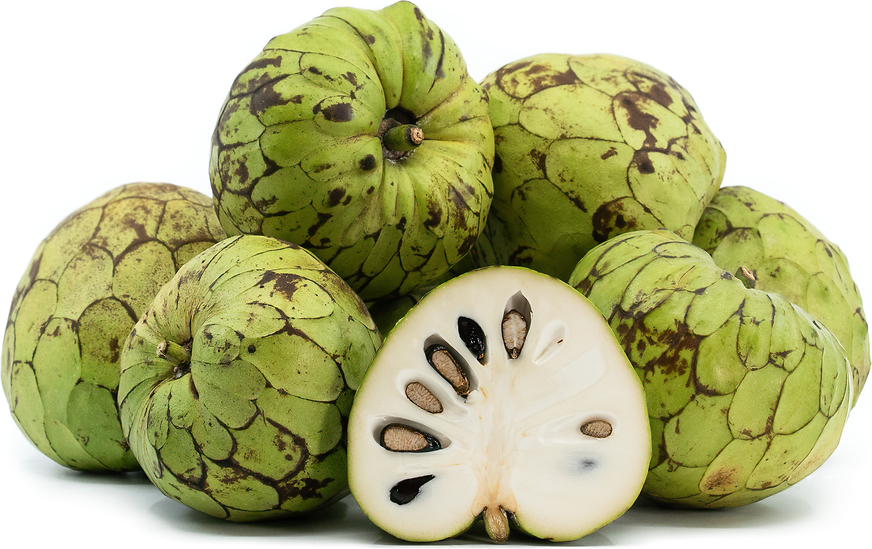 Cherimoya
Inventory, 12 ct : 0
Description/Taste
Cherimoyas vary in size and appearance, depending on the specific variety, and generally average 10 to 20 centimeters in length and 5 to 10 centimeters in diameter. The fruits range in shape from cordate, oval, to egg-like and typically have pronounced, broad, and curved shoulders, tapering to a blunt tip on the non-stem end. The skin can be smooth, slightly textured, or knobby and is light green, yellow-green, to dark green with a distinct scale-like pattern. The skin can also be thin or thick, velvety, leathery, or smooth. Underneath the surface, the flesh is ivory to cream-colored and has an aqueous, succulent, soft, creamy, and tender consistency. The flesh also encases a few to many hard, black-brown, glossy seeds that reach 1 to 2 centimeters in length. The seeds are toxic and should not be consumed. Cherimoyas are ripe when they give slightly under pressure and change color slightly. The fruits can be easily opened by hand, and once opened, a sweet, floral aroma is released reminiscent of banana and vanilla. Cherimoya flesh has a tropical, fruity, and sweet flavor, sometimes mixed with subtle tangy undertones. The fruits are said to have a candy-like sweetness intermixed with notes of pineapples, bananas, strawberries, papaya, and mango.
Seasons/Availability
Cherimoyas are available in the late fall through the spring.
Current Facts
Cherimoyas, botanically classified as Annona cherimola, are subtropical fruits belonging to the Annonaceae family. The fruits grow on mostly evergreen trees that reach 5 to 9 meters in height and are an ancient species that has been extensively cultivated to create commercial varieties designed for modern-day markets. The name Cherimoya is derived from the Quechua word, "chirimuya," meaning "cold seeds." This chilly descriptor was given in reference to the seed's ability to germinate and thrive in altitudes up to six thousand feet in the Andes mountains of South America. Cherimoyas are known by many spelling variations, including Chirimolla, Chirimoya, Cherimolier, Cherimolia, Cherimoyer, and Chirimuya. They are also known as Grabiola, Graveola, and Graviola in Brazil, Chirimorrinon in Venezuela, Tukib in Belize, Anona Poshte in El Salvador, Pox or Poox in Mexico, and Pac, Tzumux, Pap, Tsummy in Guatemala. In commercial cultivation, classifications are used to sort and determine Cherimoyas using skin appearance. The first classification is Lisa, used for smooth fruits, Impresa, fruits with light dimpling, Umbonada, round bumps, Teliado, fleshy protrusions, and Tuberculada with bumps and warts and extreme texture. Some growers may list these classifications on marketing and signs as additional information about the Cherimoyas when sold in markets. Cherimoyas are favored for their sweet, tropical, and aromatic flavor and smooth, creamy texture. There are many varieties cultivated worldwide, and the fruits are typically consumed fresh, incorporated into beverages, or used to flavor desserts.
Nutritional Value
Cherimoyas are a source of vitamin B6 to maintain healthy amino acid levels in the blood, vitamin C to strengthen the immune system, and riboflavin to promote the development of cells in the body. The fruits also provide fiber to regulate the digestive tract, potassium to balance fluid levels, folate to build red blood cells, and other nutrients, including thiamine, magnesium, vitamin E, zinc, manganese, phosphorus, and niacin.
Applications
Cherimoyas have a delicate, tropical, and fruity-sweet flavor and texture showcased when consumed fresh. The fruits are popularly consumed straight out of hand and can be eaten at room temperature or served lightly chilled. It is important to note that the flesh should be scooped from the skin and the seeds discarded when eating the fruits. Cherimoya seeds are toxic and should never be cracked open or consumed. Fresh Cherimoya is sometimes sprinkled with lime juice to create a sweet and tangy flavor in Mexico. Cherimoyas can also be added to fruit and green salads, blended into smoothies and shakes, or mashed with avocado and lime into a creamy dip. In addition to fresh preparations, Cherimoyas can be combined with coconut milk and frozen for ice cream and sherbet, incorporated into parfaits and mousse, added to muffins, tarts, and pies or used to flavor crème brulee. The fruits can also be added to cocktails, fruit punches, or juices. Cherimoyas pair well with other fruits such as lychees, strawberries, apples, oranges, pineapples, guavas, and mangoes, vanilla, maple syrup, and condensed milk. Store unripe Cherimoyas at room temperature away from direct sunlight for 1 to 4 days. Once ripe, the fruits can be stored in the refrigerator for up to 2 days. It is recommended to immediately consume the fruits when ripe for the best quality and flavor.
Ethnic/Cultural Info
In Spain, a variety of Cherimoya known as Fino de Jete was given a Protected Designation of Origin, also known as a PDO. Spain is the largest Cherimoya producer worldwide, and the cultivation of the fruits is mainly centralized in the province of Granada. The sweet-tasting fruits were chosen for planting in Granada to replace large quantities of orange groves that were destroyed due to disease. Fino de Jete cherimoyas are only grown along the coast in the Granada and Malaga provinces and were given a PDO as the variety develops light green skin, a somewhat smooth appearance, and a rich, sweet, and acidic flavor from its tropical coastal growing region. The cultivar is an impressa-type Cherimoya, the second-highest grading showcasing that the surface is only lightly indented. The fruits are also harvested and picked in the region within 24 hours to ensure Cherimoyas remain damage-free and fresh. Fino de Jete cherimoyas are highly desirable throughout Europe, and over 90% of the Cherimoyas grown in the Granada-Malaga area are Fino de Jete. The variety is also known as the PDO Chirimoya de la Costa Tropical de Granada-Málaga and is often labeled with stickers using this name as a distinguisher. Fino de Jete cherimoyas are intended for fresh eating and are primarily sold in domestic markets throughout Spain. The variety is also exported throughout Europe as a specialty fruit.
Geography/History
Cherimoya trees are believed to be native to the Andean valleys of Ecuador, Bolivia, and Colombia and have been growing wild since ancient times. Some historians consider Central America as the center of origin, but the exact history is unknown. Cherimoyas were introduced to Brazil and Chile in the early ages, and the trees were planted over time throughout South and Central America. Cherimoya seeds were sent to Mexico in 1629, and the fruits were carried to Spain with returning explorers in 1757. European explorers also planted seeds in tropical regions worldwide during the 18th century, and in 1790, Cherimoyas were brought to Hawaii by Don Francisco de Paulo Marin. Cherimoyas were introduced to Portugal sometime between 1751 and 1797, Italy in 1797, California in 1871, India in 1880, and Egypt in 1897. While the fruits were planted in subtropical to tropical regions worldwide, Cherimoyas were most successful in subtropical to mild-temperate climates as the fruits preferred a drier climate. Today Cherimoyas are commercially grown in California, areas of South and Central America, Spain, Italy, regions of Asia, Australia, and North Africa. When in season, the fruits are sold through specialty retailers, select grocers, and farmers markets.
Recipe Ideas
Recipes that include Cherimoya. One

is easiest, three is harder.
the other 1...