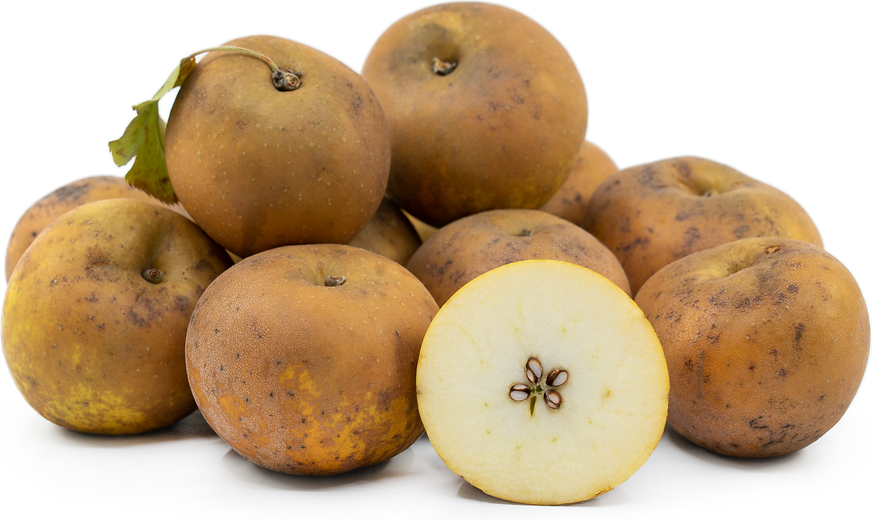 Egremont Russet Apples
Inventory, lb : 0
Description/Taste
Egremont Russet apples are a small to medium-sized varietal, averaging 6 to 6.5 centimeters in diameter, and have an ovate, slightly flattened appearance. The apple's skin is thick and chewy but not overly tough and has a green to golden yellow base with orange blush, almost entirely covered in raised brown russet. The textured russet gives the surface a sandy, somewhat rough feel, and the skin often contains dark brown markings and tan lenticels. Underneath the surface, the ivory to white flesh showcases hints of pale green and has a grainy, lightly chalky, and dry, moist consistency. This drier nature creates a crisp but soft texture, and many consumers liken the mouthfeel to eating a pear. The flesh also encases a small central core filled with tiny, dark brown oval seeds. Egremont Russet apples lack a prominent aroma and generally have a delicate flavor comprised of acidity and sugar. This balanced sweet and tangy taste also offers caramel, nutty, smoky, and spiced-filled nuances with a lingering sweetness on the palate.
Seasons/Availability
Egremont Russet apples are harvested in the mid-fall and can be stored through the winter.
Current Facts
Egremont Russet apples, botanically classified as Malus domestica, are an English variety belonging to the Rosaceae family. The apples were discovered in the late 19th century and were selected for cultivation in garden estates throughout the Victorian Era. Egremont Russet apples are favored for their unusual appearance and flavor, especially for the apple's tendency to be almost entirely covered in russet. Apple russeting is a natural phenomenon that occurs in select varieties, causing the fruits to develop thick, sandpaper-like patches of skin across the surface. Russet is entirely edible, and some apple varieties, such as Egremont Russet, are genetically predisposed to develop russet. Egremont Russet apple trees were also valued by gardeners and nurserymen for their partially self-fertile nature, prolific growth, and resistance to several diseases, a trait uncommon in heirloom or heritage varieties. Throughout history, Egremont Russet apples have maintained a steady following for their complex, sharp, sweet, and dry flavoring. They have remained one of England's most popular russet apple varieties, still in commercial and private production.
Nutritional Value
Egremont Russet apples have not been studied for their nutritional properties. Like other apple cultivars, the variety is a source of fiber to regulate the digestive tract and vitamin C to strengthen the immune system, boost collagen production, and reduce inflammation. The apples also contain small traces of potassium to balance fluid levels within the body, calcium to build strong bones and teeth, vitamin K to assist in faster wound healing, and other nutrients, including zinc, magnesium, boron, copper, and vitamin E.
Applications
Egremont Russet apples have a sweet and sharp flavor suited for fresh and cooked preparations. The apple's rough and textured skin provides a memorable eating experience, and the flesh is notably drier than other varieties, making it stand out when placed on fruit platters. Egremont Russet apples are typically served on cheese boards throughout England, and their balanced flavoring allows the fruits to be consumed straight out of hand. The apples can also be chopped into salads, tossed into grain bowls, dipped into nut butter, caramel, or chocolate, or sliced and served over oatmeal. In addition to fresh preparations, Egremont Russet apples can be baked into cakes, pies, bread, crisps, and strudels or pureed into sauces and apple butter. The apples also hold their shape well when dried, often sliced into rings or strips. Beyond culinary recipes, Egremont Russet apples contain some juice that is sometimes pressed to make cider. The juice is said to have a very sweet and rich taste with a thicker consistency, blending well with other apples. Egremont Russet apples pair well with vanilla, spices such as cinnamon, cardamom, cloves, and ginger, cheeses including camembert, brie, goat, and cheddar, and other fruits such as grapes, figs, and berries. Whole, unwashed, uncut Egremont Russet apples will last 1 to 2 months when stored in a cool and dark location. It is important to note that the variety's flavor may improve with storage, but the flesh can also become drier the longer it is kept.
Ethnic/Cultural Info
The Victorian Era marked the peak of English pomology. The Industrial Revolution gave rise to a new wave of wealthy families who desired to become accepted among the established social circles of the upper class. With this new class, country homes and estates were purchased with hundreds of acres of land as a symbol of newfound status and wealth. The estates acted as a political and social backdrop for seasonal parties and celebrations, and an essential feature of the estate was an apple orchard. Apples were one of the most popular fruits of the Victorian Era, and the fruits were so highly valued that production was elevated to the same prestigious status of winemaking. Each estate would grow hundreds of early, mid, to late season varieties for diversity, and growers would research in great detail, looking for new varieties with distinct nuances in flavor, texture, and appearance. The types of apples presented at social gatherings would directly reflect the host's refinement and taste. The fruits were traditionally reserved for fresh and cooked dessert preparations and interwoven into lavish table displays, a symbol of the abundance found in the fall season. The Victorian Era was responsible for developing many of the heirloom apple varieties seen in private English orchards in the modern day. No other countries have experienced this expansive of an apple movement.
Geography/History
Egremont Russet apples are native to England and were discovered in the late 19th century. The variety is thought to have been found in the gardens of Lord Egremont's estate in Petworth, a parish in Sussex, England, and was also named after the Lord. The first record of Egremont Russet apples was written by John Scott in 1872, a famous nurseryman who resided in the village of Merriott within the parish of Somerset, England. After its discovery, the variety was exhibited in 1883 at the National Apple and Pear Conference in London, where it received recognition for its cultivation qualities, unusual appearance, and complex flavoring. Nurseryman George Bunyard also helped the variety grow in popularity in English gardens in the early 1900s when he praised the variety as a rich, late-season apple. In the 1960s, Egremont Russet apples became one of the most planted russet apple varieties in England, and the variety was later introduced to American gardens sometime in the late 20th century. The variety was also given the Award of Garden Merit in 1993, a prestigious acknowledgment of a quality home garden plant determined by the Royal Horticultural Society. Today Egremont Russet apples thrive in temperate climates and are cultivated as a specialty apple in England, Wales, the United States, and New Zealand. The Egremont Russet apples featured in the photograph above were sourced from Brogdale Farm in Faversham, England.
Recipe Ideas
Recipes that include Egremont Russet Apples. One

is easiest, three is harder.