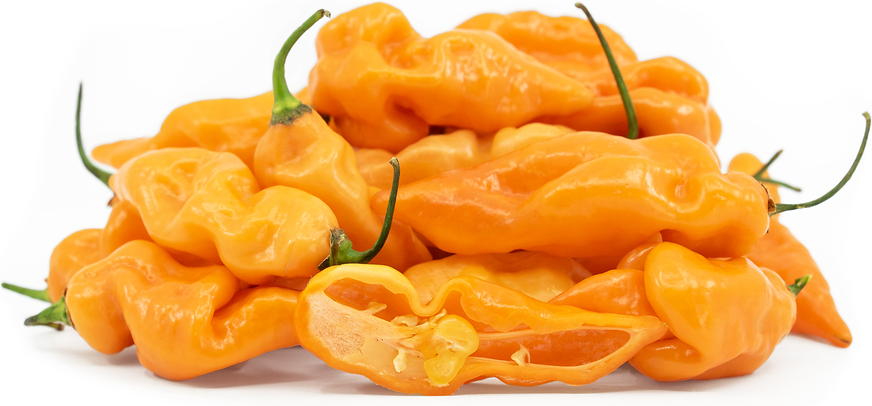 Habanada Peppers
Inventory, lb : 0
Description/Taste
Habanada peppers are small, irregularly shaped pods, averaging 5 to 7 centimeters in length, and have an elongated shape with broad shoulders tapering to a pointed tip. The pod is also deeply creased and twisted, giving the pepper a jagged and folded appearance. The skin is smooth, glossy, and taut, ripening from white to green, gold, and bright orange when fully mature. Underneath the surface, the thin flesh is crisp, aqueous, and yellow to orange, encasing a small, hollow cavity filled with edible, cream-colored seeds and membranes. Habanada peppers are aromatic and can be consumed whole with the membranes and the seeds intact, as these elements are believed to enhance the floral flavor of the pod. The peppers are considered ripe when they are in their green state, offering a mild, vegetal, and floral taste, but the preferred harvest of the pepper is when they reach full maturity in their orange state. Fully ripe Habanadas have a bright, sweet, and tangy combination of fruity, floral, and tropical flavors. The orange peppers also contain subtle earthy undertones and a lingering sweetness.
Seasons/Availability
Habanada peppers are available in the late summer through the fall.
Current Facts
Habanada peppers are a sweet, heatless variety belonging to the Solanaceae or nightshade family. The hybrid pepper was developed by breeder Michael Mazourek, through natural cross-pollination techniques, to showcase the fruity and floral flavors of a habanero pepper without the overpowering heat. There are many varieties of sweet habaneros grown among chile pepper enthusiasts, but Mazourek dedicated years of study and research to intentionally breed Habanada peppers with defining characteristics. The sweet variety is known for its bright, complex flavor and zigzagged, jagged shape, allowing consumers to easily distinguish Habanadas from the hot, lantern-shaped habanero. Mazourek also named the variety using what he calls "Spanglish." "Nada" means "nothing" or "none" in Spanish, a word chosen to describe the non-spicy pepper, and the first part of the name "haba" is a shortened version of habanero, creating the name Habanada. Since their introduction in the early 21st century, Habanadas have received widespread recognition among chefs, growers, and home gardeners as a favorable, fresh snacking pepper. Habanadas are also featured in both sweet and savory dishes at high-end restaurants, showcased as a new and novel ingredient.
Nutritional Value
Habanada peppers are an excellent source of vitamins A and C, which are antioxidants that can help improve the skin, boost the immune system, and provide anti-inflammatory properties. The peppers are also a good source of potassium, which helps to regulate fluid levels within the body and contain smaller amounts of calcium.
Applications
Habanada peppers are versatile and best suited for both raw and cooked applications, including grilling, braising, searing, and roasting. The peppers were purposely bred in a jagged shape to discourage chefs from removing the membranes, as Habanada peppers contain much of their floral flavors in the seeds and membranes. It is recommended to consume the entire pepper to experience its full flavor. The sweet peppers can be eaten straight, out-of-hand as a snack, or lightly sprinkled with salt and pepper as an appetizer. Habanada peppers can also be stuffed with spreads, cheeses, and grains, chopped into ceviche, mixed into pico de gallo, tossed into green salads, or sliced into pieces and served with dips on appetizer platters. In addition to fresh applications, Habanada peppers can be lightly roasted and served with hearty meat dishes, charred and layered over crackers or toast, pickled for extended use, or served in marinades, purees, and sauces. The peppers can also infuse flavor into shortcakes, puddings, crème brulee, cocktails, and olive oils. Habanada peppers pair well with roasted meats such as lamb, beef, and poultry, fish, burrata, herbs such as cilantro, mint, and parsley, eggplant, tomatoes, and fruits such as mango, watermelon, orange, and pineapple. Whole Habanada peppers will keep 1 to 2 weeks when stored unwashed in a plastic bag in the refrigerator.
Ethnic/Cultural Info
Habanada peppers represent a new era of produce that challenges the preconceived expectations and notions that all small, brightly colored peppers are spicy. In the past decade, many chile pepper breeders have been competing to develop the world's hottest peppers, but the hot pepper craze has begun to plateau, and the search for the next surprising ingredient has shifted to sweet peppers with complex flavors. Habanada peppers were created to fill the market gap for flavorful, fruity peppers without the intense heat. Blue Hill Farm in New York has been using Habanada peppers since their release, and the peppers are served very simply to showcase its authentic appearance and flavor. Dan Barber, owner of the farm and restaurant, carefully observes his guests as they look at the jagged pepper, wary of its supposed lack of heat, and notes how quickly the diners express delight and surprise when they are met with only sweet, fruity, and floral flavors. Barber uses varieties such as the Habanada to encourage consumers to think about the extensive decisions and research that goes into growing new produce varieties in order to create a more conscious dining experience. Another example of Habanada's innovation was at the Culinary Breeding Network Variety Showcase in 2014, which is an event that highlights unique varieties of produce and pairs these items with chefs to create innovative dishes. Habanada peppers were paired with chef Nora Antene of the Le Pigeon restaurant in Portland, Oregon. Antene savored the pepper's sweet flavors and decided to create a Habanada sherbet to highlight the floral and fruit-forward notes. The sweet dessert quickly became one of the most popular items created at the event.
Geography/History
Habanada peppers were created by organic plant breeder Michael Mazourek at Cornell University, located in Ithaca, New York. Mazourek initially received seeds from the University of New Mexico of a heatless pepper variety that was found growing naturally in one of their research fields. The heatless pepper showcased unusual genetic traits, but the flavor was lacking, driving Mazourek to use this variety in his doctoral research to create a sweet, flavorful pepper. It took thirteen generations of natural crosses, breeding, and selection to develop the Habanada, and the original heatless pepper was crossed with habaneros to create the pepper. Habanadas were finalized in 2007 and were slowly released through select retailers. Today Habanada peppers are grown through specialty farms and are sold at farmer's markets and wholesalers. The variety has also become a popular home garden pepper, cultivated for its sweet flavor.
Recipe Ideas
Recipes that include Habanada Peppers. One

is easiest, three is harder.