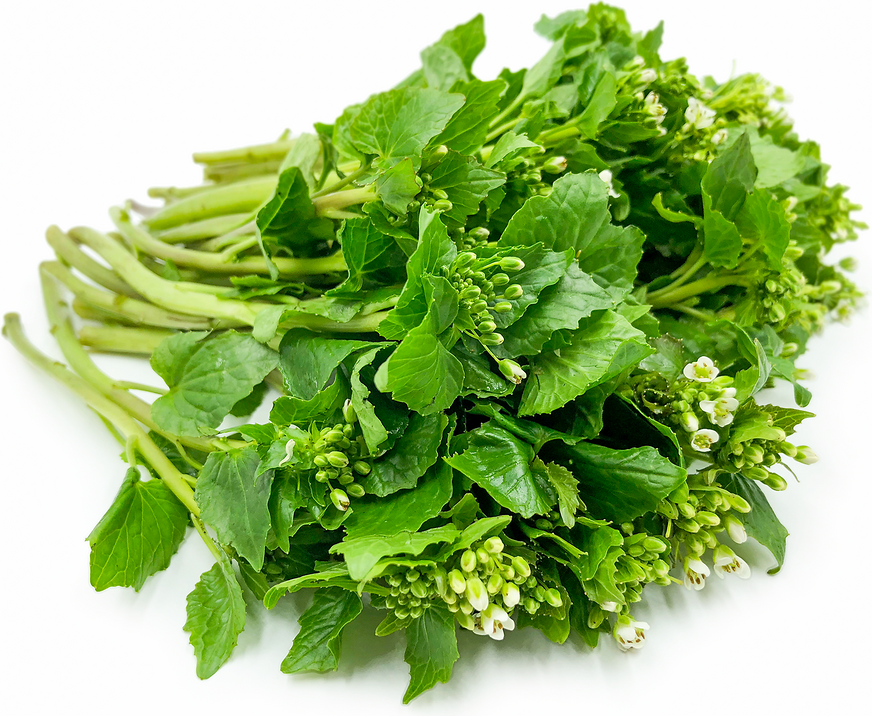 Hana Wasabi Flowers
Inventory, bunch : 0
Description/Taste
Hana Wasabi is young, harvested stems, leaves, and tiny flower buds of the wasabi plant. The thick, pale green stems are cylindrical in shape, smooth, and long, averaging 10 to 15 centimeters in length. The stems also have a crunchy and succulent consistency. The leaves vary in appearance, depending on the variety, but generally have a heart-like shape, growing 4 to 6 centimeters in diameter. The leaves are bright green and deeply veined, developing a crinkled surface, and each stem may have up to five leaves growing at one time. Interspersed between the leaves are tiny green flower buds, growing in clusters of 10 to 12 buds on each stem. The buds can range from tightly closed to open, revealing white flowers with four delicate petals and a crisp, tender texture. The stems, leaves, buds, and flowers of the wasabi plant are all edible, contributing a fresh, peppery, and mildly sharp bite with a grassy, green, and subtly sweet flavor reminiscent of spinach and mustard greens.
Seasons/Availability
Hana Wasabi is available year-round, with a peak season in mid-winter through the spring.
Current Facts
Hana Wasabi, botanically classified as Eutrema japonicum, is a young wasabi plant harvested for its leaves, stems, and flowers belonging to the Brassicaceae family. The name Hana Wasabi roughly translates from Japanese to mean "Wasabi Flowers," but the generic term also encompasses the young leaves and stems. There are over twenty different varieties of wasabi cultivated in Japan. Mazuma and Daruma are the two most common cultivars produced, and while the plants are mainly grown for their sharp, spicy roots, the young leaves and flowers are also harvested for their milder flavor. The flower buds only bloom once a year in the spring and are considered a specialty spring vegetable, valued for their vegetal, subtly sweet, and peppery flavor. Hana Wasabi is also known as Wasabi Green Tops, Ha Wasabi, and Wasabi flowers. The tender greens and buds are sold as fresh vegetables in local markets as a sustainable way to use the entire wasabi plant. The plants are also favored in home gardens, as the stems and flowers can be harvested as needed, and the plant will continue to grow and produce new stems, creating a secondary source of income and food beyond the wasabi root.
Nutritional Value
Hana Wasabi leaves contain glucosinolates, natural compounds that give the greens their peppery, subtly sharp flavor. The leaves and flower buds also contain compounds including polyphenols and flavonoids that may have antioxidant and anti-inflammatory properties, vitamin C to strengthen the immune system, potassium to balance the fluid levels within the body, and other nutrients such as magnesium, calcium, and B vitamins.
Applications
Hana Wasabi has a peppery, vegetal flavoring well suited for raw and cooked preparations. The flower buds are tender and delicate, popularly used as a fresh garnish over savory dishes, or they are tossed into salads for added texture. The buds can also be incorporated into stir-fries, fried into tempura, or mixed with miso as a flavorful side dish. In addition to the flower buds, the leaves are used similarly and can be stirred into soups, incorporated into noodle and rice dishes, or blended into a pesto. The leaves can also be boiled or steamed as a side dish, pureed into sauces, dressings, and butter, or layered into sushi rolls. The crunchy stems are popularly pickled, marinated in rice vinegar or soy sauce, and served over sushi, sashimi, and white rice. In Japan, Hana Wasabi is used to make the traditional pickle dish called "wasabi-zuke." It is cut into bite-sized pieces along with the root and prepared into a spread that can be used in poultry and sausage recipes as well as over steamed rice or on toast. Hana Wasabi pairs well with meats such as poultry, beef, and lamb, fish including trout, salmon, and tuna, aromatics such as chives, garlic, leeks, and chile peppers, citrus, other fruits including strawberries and watermelon, cabbage, yams, and cheeses such as goat and feta. Whole, unwashed Hana Wasabi will keep up to ten days when stored in a container in the refrigerator.
Ethnic/Cultural Info
The Utogi District within the Shizuoka Prefecture is considered the birthplace of wasabi. The plants were first commercially cultivated in mountainous regions with flowing spring water, and in Utogi, wasabi growers would harvest the plants for their spicy rhizome, but they would also incorporate the flower buds, leaves, and stems into various pickled preparations to sell in local markets. One of the most popular pickled dishes in the 18th century consisted of the stems being pickled in a bran miso. Retailers marketed this snack-like dish as "wasabi pickles," and vendors would create several variations, blending wasabi stems with sake kasu, also known as sake lees, a by-product of sake production. Sake kasu had an umami-like flavor with sweet and fermented nuances, creating a creamy, complex taste for the pickled wasabi stems. Wasabi pickles were sold throughout local markets, but they were most famously sold at railway stations, sometimes handed to customers through the train windows before the train departed. The pickles quickly became a favored souvenir from the Utogi region, and wasabi pickles grew to be a well-known snack throughout Japan. In the modern-day, traditional wasabi pickles are still sold at a market in Utogi known as Shizouka Utsurogi Ichiba, held on the first Wednesday of the month. This specialized market sells fresh, locally-grown wasabi and homemade pickled goods.
Geography/History
Wasabi is native to Japan and flourishes naturally in semi-aquatic, mountainous areas. The peppery plant has been growing wild for thousands of years, but the first written documentation dates back to the 10th century. Wasabi became a commercially cultivated plant in the late 16th and early 17th centuries during the Keicho Era in the Utogi district in the Shizouka Prefecture. Local Utogi growers would mainly sell the flowers, leaves, and stems, but they eventually began using the rhizome, creating pungent sauces, condiments, and sauces. In 1604, the shogun Tokugawa Ieyasu spread wasabi across Japan and heavily promoted the fiery new ingredient. During the Heian period, wasabi was a prized flavoring among the Japanese upper class, and once Japan relaxed its borders, wasabi was later introduced to chefs worldwide. Today wasabi is commercially cultivated in the Shizouka, Nagano, and Saitama prefectures in Japan. The plants are also produced on a small scale in New Zealand, Australia, the United States, East Asia, and Europe.
Recipe Ideas
Recipes that include Hana Wasabi Flowers. One

is easiest, three is harder.