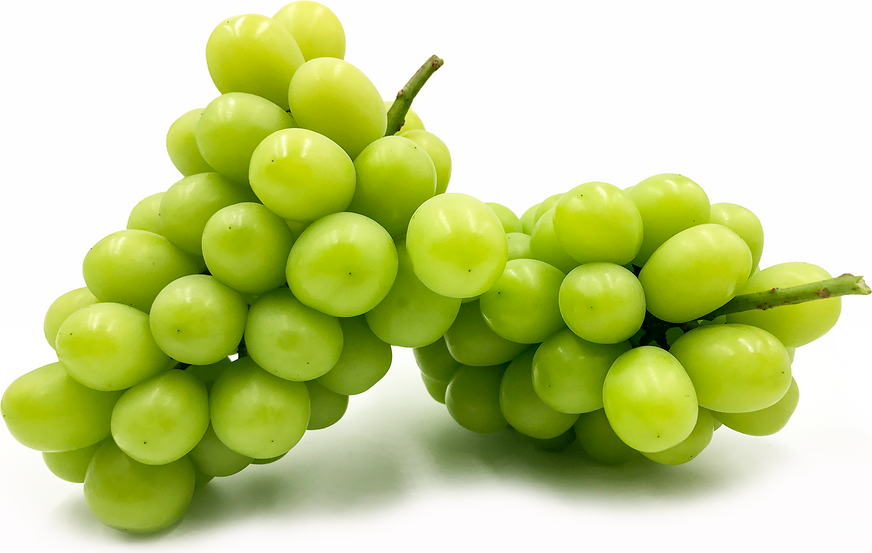 Japanese Muscat Grapes
Inventory, lb : 0
Description/Taste
Japanese Muscat grape is a broad term used to encompass several different muscat grape varieties. Muscat grapes generally average 1 to 4 centimeters in diameter, sometimes larger, depending on the variety, and have a round to oval appearance. The grapes also have an oval to oblong shape, growing in dense, tightly packed, medium-sized bunches. The grape's skin is taut, smooth, and glossy, ranging in color from bright green, pink, to red, different for each variety. Underneath the surface, the flesh is commonly translucent, aqueous, and nearly seedless, though some varieties may contain a few tiny undeveloped seeds. The flesh is also aromatic and bears a semi-crisp, snap-like quality followed by a soft, tender consistency. Japanese Muscat grapes have high sugar content, averaging around 18 Brix, and are known for their sweet, floral flavor with apricot, mandarin, honey, and musky nuances.
Seasons/Availability
Japanese Muscat grapes are available in the summer through late fall.
Current Facts
Japanese Muscat grapes, botanically classified as Vitis vinifera, are a sweet, aromatic variety belonging to the Vitaceae family. There are over 200 varieties of muscat grapes worldwide. The name Japanese Muscat is a general descriptor used to encompass multiple varieties of muscat grapes created in Japan, bred from the European Muscat grape in the late 19th and early 20th centuries. Japan was separated from the rest of the world for over 220 years until the Meiji government was established to end the outdated seclusion policy. In 1868, Japan began importing grapevines from the Western world to commercially produce table grapes, raisins, and grapes for winemaking. During this modernization, the imported varieties were selectively bred to develop new varieties of muscat grapes that could survive the cold and damp regions of Japan. There are two primary Japanese Muscat grape varieties commercially produced in the modern day. The most popular cultivar is the Shine Muscat grape, a green grape variety released in the early 21st century that was bred as a fresh eating table grape. The other well-known cultivar is Muscat Bailey A, a pink-skinned grape variety used in winemaking.
Nutritional Value
Japanese Muscat grapes are a source of fiber to stimulate the digestive tract and contain vitamin C to strengthen the immune system while reducing inflammation. The grapes also contain potassium to balance fluid levels within the body, vitamin K to assist in faster wound healing, iron to develop the protein hemoglobin for oxygen transport through the bloodstream, and other nutrients, including vitamin B6, magnesium, and calcium.
Applications
Japanese Muscat grapes have a distinctly sweet, floral, and musky flavor well suited for fresh preparations. Muscat grapes sold for fresh eating are generally seedless or have tiny edible seeds. The grapes can be eaten with or without the skin, depending on preference, and are commonly tossed into fruit bowls and salads or layered into parfaits and yogurt. Japanese Muscat grapes can also be eaten as a standalone snack, displayed on fruit platters, or used as a topping for desserts such as tarts, cakes, and ice cream. In addition to consuming the grapes whole, Japanese Muscat grapes can be frozen and pureed, used as a gelato flavor, or pressed into juice for fruit punches, cocktails, gummy candies, and shaved ice. In Japan, Muscat Bailey A grapes make light and aromatic, sweet wine. Other Japanese Muscat varieties are dried into raisins for extended use. Japanese Muscat grapes pair well with foods that have spicy, salty, sour, or bitter flavors, including curries, meats such as prosciutto or salami, nuts including almonds, peanuts, and pecans, carrots, celery, cucumber, and cheeses including blue, goat, or brie. Whole, unwashed Japanese Muscat grapes will often come carefully wrapped in plastic and can be kept for up to one week when stored in the original packaging in the refrigerator.
Ethnic/Cultural Info
Japan's most famous muscat grape is the Shine Muscat, developed in 1997 at the National Institute of Fruit Tree Science's vineyard in Akitsu, Japan. The variety was selected for trials in 1999 and was planted at 30 locations across Japan. In 2003, Shine Muscat grapes were released to commercial growers, and the late summer cultivar was eventually registered as a protected variety in 2006. Shine Muscat grapes are a luxury Japanese grape variety cultivated, packaged, and marketed as a premium fruit. The variety is highly prized for its large grape size, crisp, juicy flesh, and high sugar content, which contributes to a sweet, pleasing taste. In Japanese markets, Shine Muscat grapes are carefully packaged in boxes or decorative bags with foam and are often sold as a high-end gift for special events with family, friends, and coworkers. The grape variety is especially popular during New Year celebrations and is a status symbol when gifting to acquaintances. Following the variety's immense success throughout Japan, Shine Muscat grapes have also been smuggled out of the country and planted in Korea and China. In China, the variety is sold under brand names such as Sunshine Rose, Sunlight Rose, and Incense Jade. Japan currently produces around 1,200 hectares of Shine Muscat grapes, while China produces over 53,000 hectares.
Geography/History
The original varieties of Muscat grapes were native to the Mediterranean and were considered some of the oldest known grapes in the world. Muscat grapes have been cultivated for over 3,000 years, and over time, the vines were spread into Asia via the silk road, where they began to be extensively cultivated in China and Korea. Muscat grapevines were imported into Japan during the Meiji era in the late 19th century, and winemaking quickly became a symbol of the country's modernization. As grape cultivation increased, Japan's wet climate proved to be challenging to grow the sensitive, European grapevines, so the government established breeding programs in the early 20th century to create new muscat grape varieties with increased hardiness and resistance to disease. Today Japanese muscat grapes are primarily grown in the Okayama, Fukuoka, Kagawa, and Nagano prefectures of Japan and are cultivated in open-air vineyards and greenhouses. Japanese Muscat grape varieties are also produced in China and Korea and are imported into Hong Kong and Taiwan, sold at specialty grocers.
Recipe Ideas
Recipes that include Japanese Muscat Grapes. One

is easiest, three is harder.