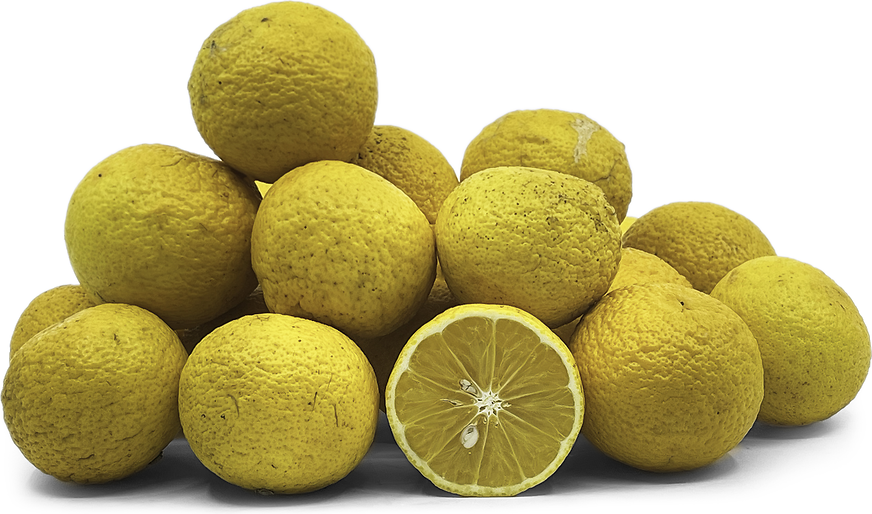 Ogonkan (Golden) Citrus
Inventory, lb : 0
Description/Taste

Ogonkan citrus is small in size, averaging 4 to 5 centimeters in diameter, and has an oblate, round, to flattened shape. The fruits are generally harvested between 60 to 90 grams in weight, and the rind is thin but tough, able to be hand-peeled, but requires effort. The rind is typically 2 to 3 millimeters thick and has a rough, pitted, dimpled, and bumpy feel due to concave oil glands. The surface ripens from green to golden yellow or yellow-orange, and there may be some scratches that are superficial and do not affect the overall flavor. Underneath the rind, a thin layer of white pith is sweet and can be eaten with the flesh. The yellow flesh is aqueous, soft, tender, and succulent, divided into 9 to 10 segments by thin membranes. The flesh is also found seedless or contains a few seeds, around 3 to 5 per fruit. Ogonkan citrus releases a refreshing, floral, and bright aroma and should feel heavy for its size, indicating ample juice. The variety can be eaten raw or cooked and has a high sugar content, around 12 to 14 degrees Brix, creating a sweet, fruity, floral, and subtly tangy taste with faint nuances of grapefruit and oranges.


Seasons/Availability

Ogonkan citrus is harvested in the winter and can be stored through the spring.


Current Facts

Ogonkan citrus, botanically a part of the Citrus genus, is a Japanese variety belonging to the Rutaceae family. The small fruits are thought to be a hybrid developed through natural hybridization in the wild and were selected for cultivation for their unusual coloring and sweet taste. Ogonkan citrus is known by several names, including Kimikan, Yellow Mikan, Golden Orange, Golden Citrus, Ougonkan, and Ogon-kan, and is a rare variety not commonly found in retail markets. Specialty growers favor the cultivar for its resistance to cold, drought, and disease, and the fruits have extended storage capabilities, lasting for several months in optimal conditions. Despite their long-lasting nature, Ogonkan citrus are rare fruits not commercially produced due to their challenging nature. The trees have large, thick thorns on the branches, and the fruits are small, leading growers to carefully hand-harvest the citrus, avoiding the damaging thorns. In the present day, Ogonkan citrus is seasonally grown as a delicacy and is sold through select markets throughout Japan for fresh use.


Nutritional Value

Ogonkan citrus is a source of vitamin A to maintain healthy organ functioning, fiber to regulate the digestive tract, and vitamin C to strengthen the immune system. The variety also provides antioxidants to reduce inflammation and protect the cells against free radical damage, potassium to balance fluid levels within the body, magnesium to control nerves, and other nutrients, including B vitamins, manganese, calcium, zinc, copper, and phosphorus.


Applications

Ogonkan citrus has a sweet, fruity, and floral taste suited for fresh and cooked preparations. The variety is typically eaten out of hand to savor its rarity, and the skin can be peeled by hand. The flesh has a sweet, subtly acidic taste, and the white pith also bears a sweet taste, allowing it to be consumed, depending on preferences. Ogonkan citrus can be sliced and served on fruit platters, eaten with fresh cheeses, tossed into green salads, or used as a topping over parfaits and other breakfast dishes. The variety can also be sprinkled with sugar for a sweeter flavor, lightly coated in soy sauce, or used as a decorative topping over cakes, tarts, and various desserts. The soft flesh complements roasted meats and seafood and can be infused into marinades, salad dressings, sauces, and soup broths as a fragrant addition. In Japan, the citrus is popularly sliced and served over grilled pork slathered in a ginger sauce. Ogonkan citrus can also be simmered into jams, jellies, and compotes. Beyond savory preparations, Ogonkan citrus is sometimes used as a flavoring for custards, cakes, cookies, and sorbet, or its juice is mixed into beer, sake, and smoothies. Ogonkan citrus pairs well with other fruits such as mango, pomelo, yuzu, grapes, and strawberries, white chocolate, dark chocolate, spices including ginger, cinnamon, and cloves, and nuts such as pistachios, almonds, and walnuts. Whole, unwashed Ogonkan citrus will keep for 7 to 10 days when stored in a plastic bag in the refrigerator's crisper drawer. The fruits can also be wrapped in newspaper and stored in a cool, dry, and dark place at room temperature for a few days.


Ethnic/Cultural Info

In the city of Hioki in Kagoshima, Japan, the mysterious origins of Ogonkan citrus are explained using two unusual anecdotes. The first story claims the variety was developed from citrus that was introduced to Japan from the Korean Peninsula. In the late 16th century, the Hideyoshi regime invaded Korea, and it is said that the seeds of citrus were carried back with returning troops. The second anecdote links the origins of Ogonkan citrus to Jesuit missionary Francis Xavier. The priest arrived in Japan in 1549 and spent most of his time in Hirado, now the modern-day Nagasaki Prefecture, followed by Kagoshima. Legend has it Francis Xavier may have carried unknown citrus seeds with him, eventually planting them on his journeys throughout Japan, leading to the creation of Ogonkan. While these tales are generally considered untrue by scientists, the stories still live on in Kagoshima culture as whimsical fables.


Geography/History

Ogonkan citrus is native to Japan and has been known since the Meiji Era, from 1868 to 1912 CE. The origins and parentage of the citrus are unknown, and the variety may be older than the Meiji Era, but Ogonkan citrus was said to have first been noted in Higashiichiki town in the Kagoshima Prefecture. Experts hypothesize that that variety was created through natural hybridization, possibly between yuzu and an unshu mandarin, and was selected by farmers over time as a new cultivar. Ogonkan citrus was initially known as Kimikan in the Kagoshima Prefecture, but when the variety was introduced to the Ehime and Shizuoka Prefecture, it was said a man named Harutarō Muramatsu was responsible for renaming the citrus Ogonkan. Today, Ogonkan citrus is a rare variety grown in small quantities throughout Japan. The variety is not commercially produced and is cultivated through specialty farms in the Kanagawa, Shizuoka, Ehime, and Kochi Prefectures.