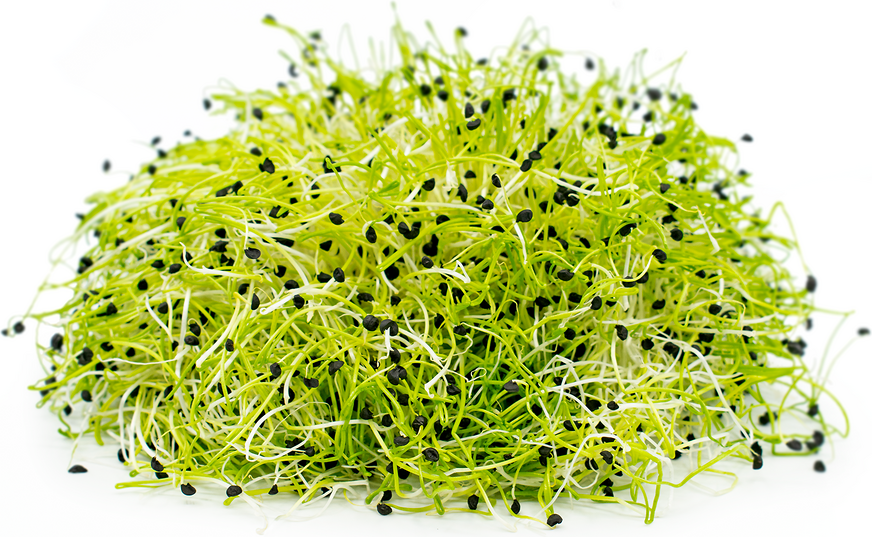 Onion Sprouts
Inventory, lb : 0
This item was last sold on : 11/01/23
Description/Taste
Onion sprouts are small in size and are grown from tiny black seeds that have a flat, circular, to concave appearance. Once germinated, the seeds produce thin, long, smooth, and delicate sprouts, often curving and folding over in various directions as the shoot lengthens. The sprouts range in color from white, pale green, to bright green, depending on the amount of light received, and the spindly stems are crisp and succulent with a tender consistency, sometimes capped with remnants of the black seed. Onion sprouts have a robust sweet and savory aroma with a nutty, slightly sweet, pungent flavor. The sprout's flavor is mild, less potent, and lacks the abrasive acidity commonly found in full-grown onions.
Seasons/Availability
Onion sprouts are available year-round.
Current Facts
Onion sprouts, botanically classified as Allium cepa, are the young shoots of germinated onion seeds belonging to the Amaryllidaceae family. The seeds are collected from bulb onion plants and are allowed to germinate and grow for approximately 10 to 15 days before they are harvested. Onion sprouts are one of the slowest growing varieties of sprouts, but they are considered to have some of the strongest flavors, valued for their sweet, nutty, and mild onion-like taste. Unlike other sprouts, which typically grow the plant's root first, onion seeds initially sprout the actual shoot, producing a slender edible stem. Onion sprouts are favored for their crunchy nature and offer the flavor and essence of onions without the overpowering acidity found in mature bulbs. Chefs value Onion sprouts for their ease of use. The sprouts can be quickly added to culinary dishes without extensive preparation and provide enhanced flavors without eye-watering fumes permeating the air. Home cooks also incorporate sprouts to increase the nutritional density of a meal in an easy-to-digest form.
Nutritional Value
Onion sprouts are a good source of vitamin C to strengthen the immune system while reducing inflammation and contain fiber to regulate the digestive tract. The sprouts also provide calcium and phosphorus to protect bones and teeth, vitamin A to maintain healthy organ functioning, and contain other nutrients, including iron, vitamin D, zinc, B vitamins, and potassium. In natural Asian medicines, such as Traditional Chinese Medicine, sprouts are consumed to help reduce inflammation, clear heat, increase digestion, and detox the body.
Applications
Onion sprouts have a mild, nutty, and subtly sweet onion flavor well suited for fresh preparations. The sprout's delicate nature cannot withstand high heat and should be added at the end of preparations to retain the sprout's crunchy texture and flavor. It is also recommended to use the sprouts in small quantities to keep the flavor from becoming too overwhelming. Onion sprouts can be layered into sandwiches, wraps, fresh spring rolls, and quesadillas, tossed into salads, or used as an edible garnish over avocado toast, breakfast melts, and scrambled eggs. The crisp sprouts enhance the flavor of any dish and are a quick and easy substitute for onion bulbs in recipes. The sprouts can also be gently pressed on top of soft cheeses, herb dips, and spreads, floated over soups such as udon and ramen, mixed into grain bowls and pasta side salads, or used as an added texture on top of fried onion pancakes and fritters. Try sprinkling a small amount of Onion sprouts over lemon risotto for an interesting flavor combination or placing it on top of sushi and sashimi. The sprouts can also be mixed with other sprouts, including broccoli, radish, clover, or alfalfa, and used as a crunchy bed of greens. In unconventional preparations, Onion sprouts can be dehydrated and ground into a spice, sprinkled as a flavoring. Onion sprouts pair well with avocado, asparagus, sunflower greens, arugula, potatoes, tomatoes, seafood, and grilled meats, including poultry, beef, and pork. Onion sprouts should be immediately consumed for the best quality and flavor but will keep 3 to 5 days when stored unwashed in a sealed container in the crisper drawer of the refrigerator.
Ethnic/Cultural Info
Onion sprouts became a popular ingredient in the United States in the 1980s with the rise of health-conscious eating, but onions, in general, were revered throughout Ancient Egypt as a mystical funeral offering. Many different types of onions were depicted on the walls in tombs of the pyramids. The paintings illustrated various scenes, from priests holding onions to the bulbs and onion greens featured in feasts to the roots and leaves being placed on altars. Onions were also grown year-round in Ancient Egypt and were worshiped as food reflecting eternal life. The Egyptians admired onions for their concentric layers and viewed them as a symbol of eternity. Onions were found buried with the pharaohs, and pieces of the bulb were traditionally placed on areas such as eyes, feet, chest, and ears. It is unknown as to the reasoning for the onion pieces, but experts believe that they viewed onions as having healing properties, helping the pharaohs resurrect in the afterlife. One of the most famous onion findings was when archeologists discovered onions in the buried King Ramses IV's eye socket.
Geography/History
Onions are native to Asia and have been cultivated for thousands of years. While the exact origin of growing onion seeds solely for the sprouts is unknown, ancient Chinese physicians have been using sprouts medicinally for over 5,000 years. Sprouts were also grown throughout Southeast Asia and India and were viewed as a cleansing, nutritional food. In the 1700s, various types of sprouts were consumed by sailors of Captain James Cook's crew to prevent scurvy, and as onions were spread from Asia to the rest of the world through explorers and migrating peoples, the practice of growing sprouts expanded to civilizations worldwide. Onion sprouts rose in popularity in the Western World in the mid-20th century when the consumption of sprouts was being touted as a new health food. Today Onion sprouts are grown in kitchens and sold commercially worldwide. Onion sprout seeds are sold through online retailers for commercial markets, and freshly grown sprouts are offered through specialty grocers, farmer's markets, and distributors.
Recipe Ideas
Recipes that include Onion Sprouts. One

is easiest, three is harder.