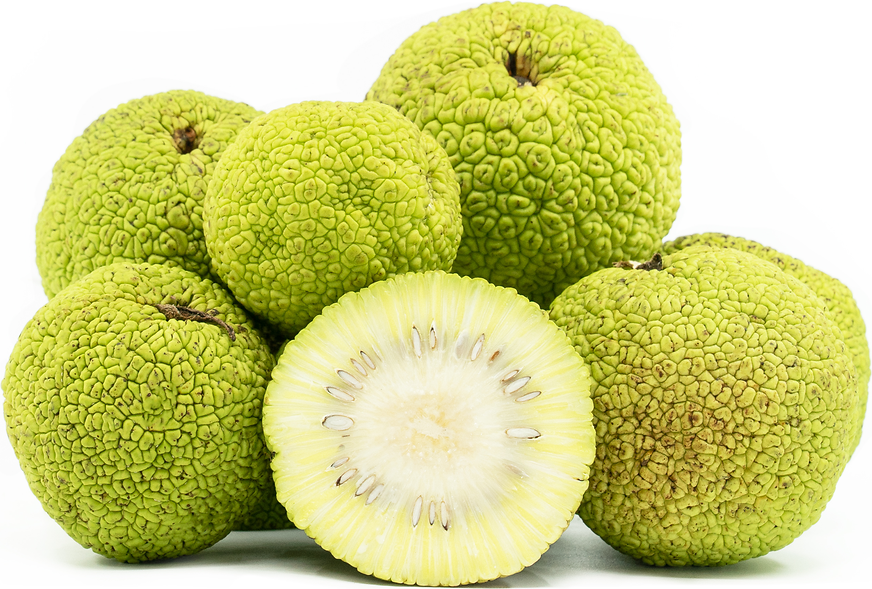 Osage Oranges
Inventory, ea : 0
Description/Taste
Osage oranges are large and globular, averaging 8 to 15 centimeters in diameter, and have a slightly lopsided appearance from protruding lumps. The surface is deeply grooved, yellow-green, and rough, covered in a few stray, wiry hairs. Underneath the ridged surface, the flesh is dense, cream-colored to pale green, and contains 200 to 300 oblong, light brown, edible seeds. When the flesh is sliced, it also exudes a sticky, white liquid that can be irritating to the skin and may cause a rash. Osage oranges have a green, bitter flavor with mild notes of cucumber and a fruity, citrus-like aroma. The flavor is generally unpleasant, unpalatable, and some may feel ill after ingesting the bitter fruit, causing many to deem it inedible.
Seasons/Availability
Osage oranges are available in the fall in North America.
Current Facts
Osage oranges, botanically classified as Maclura pomifera, are uniquely textured fruits growing on small deciduous trees that are members of the Moraceae or Mulberry family. Also known as the Hedge apple, Bow-wood, Horse apple, and Monkey Ball, Osage oranges are considered to be a relict species that has been present since prehistoric times, once consumed by extinct giant sloths and mastodons. Throughout North American history, Osage oranges have peaked and waned in popularity due to changing, evolving civilizations. Once prized as natural fencing for its fast-growing nature and thorny branches, Osage oranges were one of the most planted trees in the central United States. Today with modern farming advancements, the majority of the trees have been cut down and have become relatively rare, remaining localized to select regions of North America.
Nutritional Value
Osage oranges are not commonly consumed, but they do contain essential oils and some antioxidant properties.
Applications
Osage oranges are a peculiar fruit as both humans and most animals choose not to consume the bitter flesh. Some animals such as squirrels do consume the seeds, but the fruits earned their inedible reputation due to livestock choking on the fruits and dying. Despite many misinterpretations of the fruit being inedible, the fruit is edible but is not commonly consumed due to its unpalatable features such as the bitter flavor and unpleasant latex-like liquid that can irritate the skin. Beyond the flesh, the seeds are edible and can be toasted. It is a painstaking process to remove the seeds from the flesh, and one fruit can contain 200 to 300 seeds. To remove the seeds, the fruit is popularly soaked until the flesh softens and the seeds are then carefully plucked out. Once cleaned, the seeds are left to dry and are then lightly toasted. Osage orange seeds have a nutty flavor that is reminiscent of a cross between a sunflower seed mixed with popcorn. In addition to consuming the seeds, the fruits are generally kept as ornamental decoration or are used as an air freshener for a couple of weeks when stored in a cool place away from direct sunlight.
Ethnic/Cultural Info
Osage oranges have a complex history steeped in tradition and innovation. The trees were known for their durable, decay-resistant wood and were considered sacred by the Osage Indian tribe as they constructed their best bows from the wood. These bows were so prized for their resilient nature that they were found over two-thousand miles away in other tribes, often sought after and distributed through trade. When French settlers encountered the Osage Indians and the handmade bows, the Osage orange tree earned the name Bois D'Arc, which means wooden bow. As more European settlers expanded into the region, Osage orange trees transitioned into a new role and became the premier fencing along property lines in the Great Plains. The trees bear sharp spines, and the twisting branches would be interwoven with branches from neighboring Osage orange trees to create a living, armed fence. These fences would mature in just under four years and were given the slogan of "horse high, bull-strong, and hog-tight" to keep animals within property lines. Osage orange trees were planted for thousands of miles and were one of the most sought-after trees during this time. The tree's popularity quickly faded with the invention of barbed wire, which was rumored to have been modeled after the thorny Osage branches. With time, Osage orange trees retreated to their original purpose of being used for their wood and were chopped down to make fence posts to run the new barbed wire.
Geography/History
Osage oranges are native to the Red River region that spans across Arkansas, Texas, and Oklahoma and have been growing wild since ancient times. In the 1800s, the trees were quickly spread across the Great Plains and into the south as a living fence and were planted in rows that stretched for miles to divide farm property lines. Osage orange trees were also used in President Roosevelt's "Great Plains Shelterbelt" in 1934 to help create habitats for animals and block strong winds from tearing across the plains. Many of these trees have been removed in the modern-day and have become a rare variety, predominately grown and cut down for their wood. Today Osage oranges are found growing wild across the United States and into regions of Canada such as Ontario.
Recipe Ideas
Recipes that include Osage Oranges. One

is easiest, three is harder.