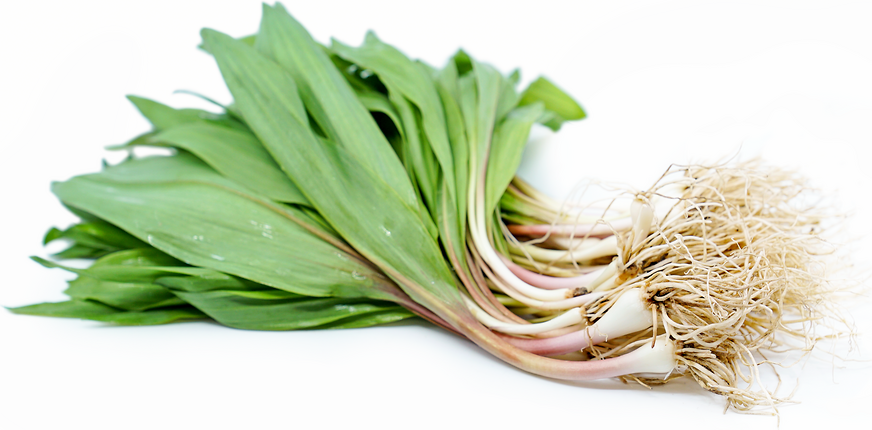 Ramps
Inventory, lb : 0
Description/Taste
Ramps is a term for slender, upright plants comprised of small bulb-like bases tapering through straight stalks into long and broad lanceolate-shaped leaves. The plants are traditionally harvested when they have reached 25 to 35 centimeters in length, and the bulbs are generally 1 to 4 centimeters in length, attached to tufts of ivory-hued roots. The bulbs are slightly swollen, smooth, and white and have a crisp and fleshy nature. As the bulbs transition into the stem, the coloring changes to a pink, white, to purple hue. The stems are pliable, crisp, and succulent, with a semi-smooth feel. The leaves are flat and wide, growing up to 25 centimeters in length, showcasing a vibrant green hue with hints of pink and purple at the base. Ramps have a powerful, woody aroma mixed with pungent garlic, onion, and vinegar notes. The leaves, stems, bulbs, and roots of the plant are edible raw, or cooked and have a tender, crisp, and succulent consistency. Select Ramps that are fresh, firm, and show no signs of wilting. Ramps have an earthy, peppery, vegetal, garlicky, and onion-like taste. When cooked, the garlic nuances mellow, creating a savory but still pronounced flavor.
Seasons/Availability
Wild Ramps are available for a few months in the early spring. The arrival of the species varies depending on the region in North America, but the shoots rarely last beyond mid-May to early June.
Current Facts
Wild Ramps, botanically classified as Allium tricoccum, are a slow-growing, perennial plant belonging to the Amaryllidaceae family. The species is a wild type of Allium native to North America, where it is valued as a seasonal, springtime vegetable. Ramps grow in clusters with shallow, entwined roots, and the plants are only available for a few months in the spring each year, often for three weeks or less in some regions. Ramps were once found in large wild populations throughout the United States and Canada, but overharvesting has led the greens to become an elusive, valuable ingredient consumed to awaken and transition the body from winter into spring. Ramps are one of the first plants to appear in the spring, and the leafy shoots are also known as Wild Leek, Wild Garlic, Wild Onion, Wood Leeks, and Ramsons, named for their distant relation to the other Allium species. In the past few decades, Ramps have transformed from a local, foraged ingredient in their native growing regions to a treasured culinary ingredient in high demand throughout North America. Chefs and home cooks value the robustly flavored shoots for fresh and cooked culinary preparations. The shoots can be responsibly foraged by an expert or purchased through distributors who work with growers to cultivate the plants commercially.
Nutritional Value
Ramps are a source of vitamin A to maintain healthy organ functioning, vitamin C to strengthen the immune system, and vitamin K to assist the body in faster wound healing. The shoots also provide iron to develop the protein hemoglobin for oxygen transport through the bloodstream, chromium to regulate blood sugar levels, selenium to protect against cell damage, and other nutrients, including antioxidants to prevent the damage caused by oxidative stress on cells in the body, folate, copper, and fiber. In North America, Native American groups such as the Cherokee would use Ramps in a poultice to spread topically over bee stings and bug bits. They would also incorporate the shoots into a tonic and consume the mixture as a springtime body purifier.
Applications
Ramps have a piquant flavor suited for fresh or cooked preparations. The plants are sourced by chefs as a seasonal delicacy, and despite their small size, Ramps are known to have such a strong garlic and onion flavor they are nicknamed "little stinkers." It is important to thoroughly wash Ramps before use as the plants can trap dirt and grit, creating an unpleasant eating experience. It is recommended to submerge the greens in water and swish them around to dislodge the remaining debris. The outer leaves and sheaths should also be removed, creating a more tender texture. Ramps shine in any recipe calling for leeks or scallions, and the plants can be served raw or sauteed, roasted, baked, or grilled. Delicate slices of the plant can be served as a finishing element over springtime dishes or chopped and tossed into salads. Ramps also develop richer, savory notes when cooked and are incorporated into casseroles, potato dishes, soups, and egg-based preparations. Try adding Ramps to frittatas, omelets, and scrambles or baking finely chopped pieces into cornbread, scones, bread, and biscuits. Ramps provide a robust foundation to rice dishes and the greens can be mixed into kimchi, pureed into pesto, or folded into butter for enhanced flavors. In the United States, Ramps are customarily slow-roasted to draw out the plant's true flavoring. They are also mixed into risotto or added to pizza and pasta. In addition to fresh Ramps, the plant's stems and bulbs can be pickled for extended use as a condiment, and the leaves can be dried and used in Ramp salt or in soup stocks. Ramps pair well with meats such as poultry, beef, and fish, eggs, cheeses including pecorino, feta, and goat, nuts such as walnuts, pecans, and almonds, and springtime ingredients including peas, mushrooms, lettuces, citrus, and radishes. Whole, unwashed Ramps should be wrapped in damp paper towels and stored in a sealed container for 3 to 4 days in the refrigerator's crisper drawer. Ramps can also be frozen for up to six months.
Ethnic/Cultural Info
In the United States, Ramps inspired the name of Chicago, one of the largest cities in the state of Illinois. The name Chicago is derived from the Algonquin word "shikaakwa," meaning "striped skunk" or "onion." Historically, several Algonquian people groups inhabited the region along the southeastern shoreline of Lake Michigan. "Shikaakwa" is thought to be a word once used among the Miami and Illinois peoples for Allium tricoccum, now known as Wild Leek or Ramps. Historians believe that Ramps widely grew along the shoreline of the rivers and lakes in the region, and when French explorers arrived in the late 17th century, they began adopting Algonquin words and slightly changing the pronunciations over time with evolving spellings. French settlers often wrote the word "shikaakwa" phonetically as chicagoua or chicagou. In September 1687, the first known record of the evolving word was found in a memoir written by explorer Robert de LaSalle, marking the transition of the word into Chicago. Ramps are also traditionally celebrated in the Appalachian region of the United States through seasonal festivals. The Ramp festival in Cosby, Tennessee, was said to be one of the oldest, largest, and most famous celebrations of the springtime plant. In 1954, residents of Cosby were growing tired of only being known as the "moonshine capital of the world," and with unemployment rates skyrocketing, the younger generation was leaving the small town for larger cities. Residents banded together to brainstorm how to increase tourism and improve the town's reputation, creating a plan for a Ramps festival. Ramps grew abundantly around Cosby, and the Cosby Ruritan Club sponsored the first two-day festival held in May, attracting thousands of visitors. The Cosby Ramps Festival featured live entertainment, celebrity appearances, a beauty pageant, and vast amounts of food with Ramps as a central ingredient. Since 1954, the festival has had notable guest appearances, including former President Harry Truman, singer Brenda Lee, and television personality Tennessee Ernie Ford, and in 1959, over 30,000 visitors attended the celebration.
Geography/History
Ramps are native to North America and have been growing wild since ancient times. The plants thrive in moist, well-draining soil in low mountainous elevations and are commonly found beneath birch, maple, beech, oak, and poplar trees in deciduous forests and woodlands. The seasonal shoots are also found alongside streams and lake shores in partially shaded areas. Throughout history, Ramps have been gathered by indigenous populations throughout North America as a food and medicinal ingredient. Over time, as European settlers established colonies in North America, they adapted foraging practices from the Native Americans, incorporating Ramps into their springtime diets. Ramps remained a desired, seasonal ingredient for several centuries, and in the present day, the wild ingredient has become so popular that overharvesting has become a danger to the plant's survival. The seeds of Ramps take 6 to 18 months to germinate, and the plants take 5 to 7 years to mature. Each time a Ramp is removed from the forest with its roots before it goes to seed, its life cycle ends. The late 20th-century surge of using Ramps in culinary preparations has resulted in the vegetables disappearing from wild areas once covered in the aromatic, green shoots. In 1995, Quebec, Canada, deemed that selling Ramps was illegal and harvesting for personal use was limited to 50 bulbs per person per harvest year. These rules were enacted to protect and preserve the dwindling populations of wild Ramps and select areas in the United States also enacted laws to prevent wild Ramps from disappearing. Today Ramps are found in wild populations from Quebec, Canada, to Georgia and generally remain east of Oklahoma. When in season, Ramps are found through select distributors and grocers in the United States and Canada.
Recipe Ideas
Recipes that include Ramps. One

is easiest, three is harder.
the other 40...