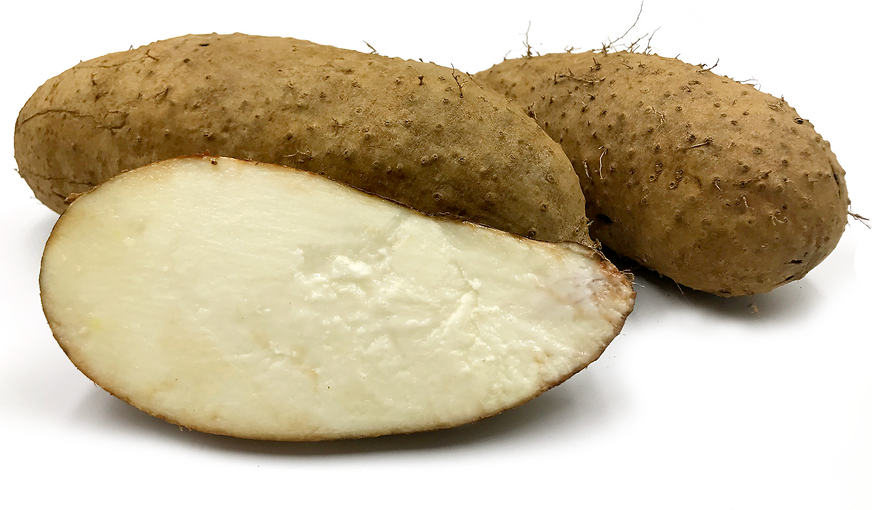 Tugi Root
Inventory, lb : 0
Description/Taste

Tugi root is the underground tuber of the Tugi plant, a vine-like plant with heart-shaped leaves. The vine stem is hairy, as are the immature leaves. Mature leaves have dark green veins that stem out from the center of the heart and meet at the tapered end of the leaf. Up to 20 tubers will grow from one plant, and potentially up to 50 in wild varieties. The Tugi root is cylindrical and rounded at each end, and is sometimes covered with smaller roots or "hairs" at one or both ends. The tuber can reach up to 20 centimeters long and up to 8 centimeters in diameter. The skin is a pale brown and thin, making it easy to remove. The flesh of the Tugi root is white or cream colored and is smooth textured, without fibers. The yam variety is considered sweeter than yellow or orange yams, and has a chestnut-like flavor.


Seasons/Availability

Tugi root is available in the fall and through the winter months.


Current Facts

Tugi root, also called Lesser yam, is a member of the yam family and is botanically classified as Dioscorea esculenta. It is considered one of the oldest species of the genus Dioscorea. The ancient tuber is sometimes referred to as the Asiatic yam, for its place of origin, or Potato yam, for its appearance. There are two varieties of perennial Tugi root, one cultivated and the other wild. In India, there are two named cultivars, Sree Latha and Sree Kala. Tugi root is also sometimes called Gan shu.


Nutritional Value

The startchy tubers are a good source of protein and vitamin B. Tugi roots are rich in minerals like calcium, iron, magnesium, potassium and zinc. Tugi root has antioxidant benefits, as well as anti-inflammatory properties.


Applications

Tugi root is generally always served cooked, either boiled or roasted. In the Philippines, the boiled root is cooled to room temperature, the skin is peeled back at one end and the flesh is dipped in sugar and eaten out of hand. The skin is peeled back as the root is eaten. Tugi root can be prepared like a potato, sliced or diced and boiled or fried, like chips. Store Tugi root at room temperature for up to a week. Refrigerate any prepared Tugi root.


Ethnic/Cultural Info

In the Philippines, particularly in the northern region of Pangasinan, Tugi is used in a traditional dish served around All Saints' (or All Souls') Day. The root vegetable is cooked and mashed and mixed with inlubi, a rice delicacy.


Geography/History

Tugi root is native to Southeast Asia and Indonesia. Scholars believe that it was domesticated in the 2nd or 3rd century in southern China. Tugi root thrives in the warm, tropical regions near the equator, and grows best at elevations above 500 meters (1,640 feet). The medium-sized root vegetable is more common in India, Southeast Asia, and Malaysia, though it can be found in other tropical locations like Hawaii, Puerto Rico, New Zealand and West Africa.