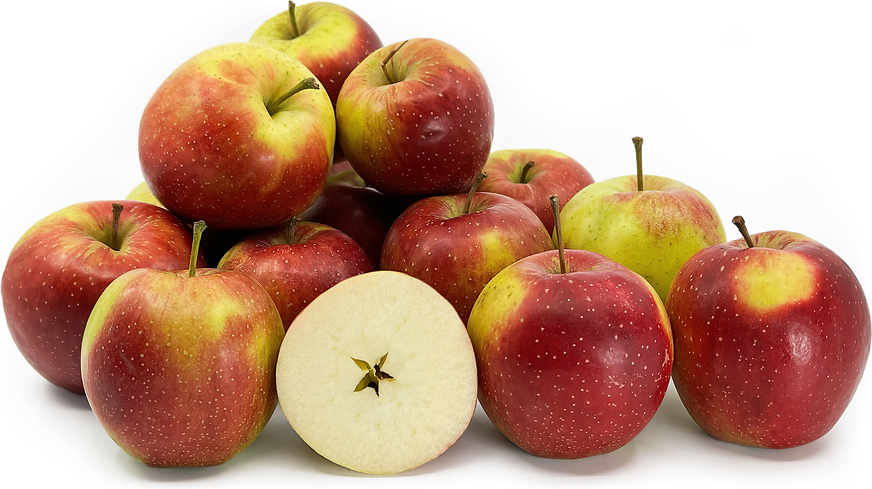 Wellant® Apples
Inventory, lb : 0
Description/Taste
Wellant® apples are a medium to large varietal, averaging 8 to 10 centimeters in diameter, and have a round, oval, to slightly elongated shape with broad, flat shoulders tapering to a narrow base. The fruit's skin is smooth, thick, chewy, taut, and lightly textured with prominent, raised yellow lenticels and patches of tan-green russet. The skin also has a green to golden yellow base, almost entirely covered in a dark red to crimson blush. Depending on sun exposure during cultivation, the blush varies from translucent to solid, giving the apple a rustic appearance. Underneath the surface, the white to ivory flesh is firm, fine-grained, aqueous, and crisp with a succulent consistency. The flesh oxidizes quickly once exposed to the air, and there is a small central core filled with tiny black-brown seeds in the center of the flesh. Wellant® apples release a honeyed, fruity scent when ripe. The flesh is known for having high sugar and acidity levels, creating a bright, sweet, and tangy taste with warm nuances of cider and spices.
Seasons/Availability
Wellant® apples are harvested in the fall through spring. When the apples are picked and stored in ultra-low oxygen settings, they can be kept for up to eight months to extend the season.
Current Facts
Wellant® apples, botanically classified as Malus domestica, are a modern Dutch variety belonging to the Rosaceae family. The mid-season cultivar was commercially released in the early 21st century and was initially a club apple only found through select retailers. Over time, it became an open variety available for sale directly to consumers through farm shops, local markets, and growers. Wellant® apples are also known as Fresco apples and CPRO 47, their original varietal name during breeding. Wellant® is a brand name created for increased consumer appeal. The apples grow on trees reaching 4 to 6 meters in height and are a slow-maturing variety, allowing the fruits to develop flavor and texture at a steady, consistent pace. Wellant® apples also grow fairly easily in northwestern and central Europe, the variety's main target regions, and the freshly harvested apples are promoted in consumer markets as having a rustic, pleasing appearance. Wellant® apples are favored as a multi-purpose variety utilized in fresh and cooked preparations.
Nutritional Value
Wellant® apples are a source of vitamin A to maintain healthy organ functioning, phosphorus to produce genetic material, including DNA and RNA, and fiber to regulate the digestive tract. The apples also provide vitamin C to strengthen the immune system while reducing inflammation, potassium to balance fluid levels within the bloodstream, calcium to build strong bones and teeth, copper to develop connective tissues, and other nutrients, including manganese, vitamin E, magnesium, vitamin K, and zinc. The saturated red hues within the skin indicate the presence of anthocyanins, pigmented compounds with antioxidant-like properties to protect the cells against the damage and oxidative stress caused by free radicals.
Applications
Wellant® apples have a sweet, fruity, and spice-filled flavor suited for raw and cooked applications. The variety is popularly consumed straight out of hand and is savored for its aromatic nature and robust flavoring. Wellant® apples can also be shredded into slaws, mixed into fruit medleys, or chopped into salads. The apple's flesh tastes sweet, complementing dishes with a blander and more neutral flavor, including breakfast foods. The apples can be cut fresh as a topping over pancakes and waffles, sauteed in browned butter, and served with baked goods, or sliced and layered into a parfait. Try adding Wellant® apples to sandwiches, wraps, or grilled melts for added crunch, serving slices with nut butter, or dipping slices into chocolate or caramel as a sweet treat. The fruits can also be baked into cakes, fritters, puff pastry, and other desserts or simmered into compotes, chutney, jams, and jellies. Beyond sweet preparations, Wellant® apples can be roasted with root vegetables as a side dish, cooked and served with meat in main dishes, or chopped and added to stuffings. Wellant® apples pair well with meats such as bacon, poultry, beef, and sausage, cheeses including gouda, parmesan, or goat, and spices such as cinnamon, cloves, and nutmeg. Whole, unwashed Wellant® apples will keep for 2 to 3 weeks when stored in a cool, dry, and dark place, such as a cellar or refrigerator crisper drawer. Despite being able to last for several weeks, it is recommended to immediately consume the variety for the best quality, flavor, and juice content.
Ethnic/Cultural Info
Apples were once viewed as a symbol of eternal life and fertility among the ancient Germanic tribes in northwestern Europe. Apples were discovered in early Germanic graves, and experts theorize that the fruits were left with the body to provide eternal life and sustenance for the soul. Over time, Norse mythology began interweaving apples with immortality, and tales of Idunn giving the gods golden apples arose and became commonplace. Apples were also closely tied to fertility, and one of the more notable legends involves King Rerir in the Völsunga saga, a story recorded in the 13th century. The saga opens with the story of King Rerir in chapter 2, and the king is feverishly praying to Odin for a child. Frigg, the goddess of fertility and marriage and Odin's wife, heard his prayers and sent an apple through a messenger disguised as a crow. The crow dropped the apple in the king's lap, and the king later gave the fruit to his wife. Legend has it King Rerir's wife consumed the apple and then had a six-year pregnancy, eventually conducting a Caesarean section birth to give rise to the hero of the story, Völsung.
Geography/History
Wellant® apples were developed in the Netherlands through a partnership between Inova Fruit and the Applied Plant Research, also known as WUR-PPO, of Wageningen University and Research Center. The variety was created from a cross between Elise apples and a CPRO Selection in the late 20th century and was bred using traditional techniques to produce a new apple with increased commercial value based on changing consumer preferences. Pilot orchards were established throughout Belgium and the Netherlands in 2003 to grow, test, and evaluate the variety under the varietal name CPRO-47. In 2004, the cultivar was relabeled under the brand name Wellant® and was planted in the first commercial orchards in 2005. Since their release to the market, Wellant® apples have been widely planted across the European Union and are promoted for central and northwestern regions, having found success in Northern Germany. Today Wellant® apples are primarily grown in Europe and are offered directly from growers, through fresh markets, distributors, and select grocers.
Recipe Ideas
Recipes that include Wellant® Apples. One

is easiest, three is harder.